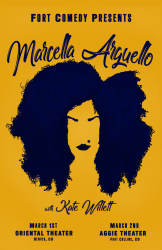 Ft Comedy Presents :
Marcella Arguello w/ Kate Willett
Also: Christie Buchele, David Rodriguez , Kyle Pogue
Time: 8:00pm Day: Thursday Doors: 7:00pm Ages: 18+ / Bar with ID Price: $10

Showtimes
9:00 pm
Marcella Arguello
Marcella Arguello


Too lazy to shoot hoops and too tall to model, Marcella Arguello stands over 6 feet. Although she may be taller than most men, the only thing more intimidating than her height is her comedy. Marcella mixes a combination of genuine reason with a sexy suggestion of street. Deemed as "sexually and ethnically ambiguous" she appeals to everyone and is not afraid to tell you how she really feels about subjects concerning race, gender, politics, relationships, family, work, music, pop culture and whatever else is on her mind that day.
In the Fall of 2017, Vulture.com presented their list of "Comedians You Should and Will Know" and Marcella was the top industry pick which gaind her a feature in the November issue of New York Magazine. Marcella was deemed an "LA Comedian to Watch in 2017" by Time Out Magazine while maintaining her reign as a fan favorite and six-time winner on Comedy Central's @midnight. She is currently writing for the renewed Netflix series "Bill Nye Saves The World" and was a writer on the James Corden spin-off show Drop The Mic on TBS. She won her appearance on TruTv's Comedy Knock Out and can be seen on upcoming episodes of Trivial Takedown on FuseTV. Marcella was featured on Viceland's Flophouse, and in 2015 on NBC's Last Call with Carson Daly; her stand up has been highlighted on rapper Tyler, The Creator's mobile app and on Fox's The Real. Her Twitter account (@marcellacomedy) has been featured on CNN, Fox, TIME.com, HuffingtonPost.com and various entertainment websites. She is a regular opener for Last Comic Standing Winner Felipe Esparza as well as NBC Superstore's Nico Santos. She has opened for David Alan Grier, Norm MacDonald, J.B. Smoove, Hannibal Buress, Ron Funches, Godfrey, Bryan Callen, Aries Spears, Hasan Minhaj, Al Madrigal, Joey Coco Diaz, Melanie Comarcho, Melissa Villaseñor and has shared a stage with Bill Burr, Paul Mooney and Robin Williams.
She has worked at The Improv Comedy Clubs all over the country and is a regular at The Punch Line Comedy Clubs in Northern California. She has performed at The New York Comedy Festival, Bridgetown Comedy Festival, Chris Hardwick's ID10T Festival, Riot LA Comedy Festival, overseas for American troops and comedian Sean Keane referred to her as the "finest export from Modesto since George Lucas."
Kate Willett


Kate Willett is a comedian, actress, and writer whose raunchy feminist storytelling is both smart and relatable. She was recently a correspondent for the JIM JEFFERIES SHOW at Politicon 2017. She's been featured on Viceland's FLOPHOUSE and her appearance on Comedy Central's THIS IS NOT HAPPENING was on Splitsider's list of "2016's Best Late Night Standup Sets." In the past, she toured with Margaret Cho nationally and internationally and has featured with comedians like Kyle Kinane, Jen Kirkman, Ali Wong, Dana Gould, and Greg Behrendt.
She has appeared in the Just for Laughs Montreal Comedy Festival, Limestone Comedy Festival, High Plains, Big Sky Festival, Bridgetown Comedy Festival, San Francisco Sketchfest (5 years in a row), and most recently Laughing Skull. Earlier this year she was a "Comic to Watch" at the LA RIOT festival.
She will next be seen on Season 2 of NIGHT TRAIN WITH WYATT CENAC for Seeso. Her comedy album "Glass Gutter" was released on May 26.
"Kate Willett is a woman on the rise. Willett achieves a perfect blend of smart and filthy when she takes the stage."  –SF Weekly
"As my opener, she buried me! Fortunately we were performing in a mortuary." — Kyle Kinane