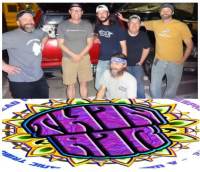 Thin Air - Widespread Panic Tribute
with: 2 Fat 2 Skydive
Time: 8:00pm Day: Friday Doors: 7:00pm Ages: 18+ / Bar with ID Price: $12

Thin Air

Thin Air is a Widespread Panic Tribute Band that strives to capture the essence of WSP as accurately as possible in sound and delivery.  The band closely replicates the songs as much to the studio versions as possible, bringing you the listener...the best of both of both "live " and "studio" WSP worlds.  Thin Air, made up of: Ryan Morrow -Bass, Lionel Lucchesi -Drums, Bill Stonebraker -Lead Guitar, Grant Kuhlman - Guitar / Lead vocal, Mark Norman on Keyboard's
and Rob Quinn on Percussion honor the band they love most, by putting on the best re-creation of all things WSP possible!
2 Fat 2 Skydive

Originating in the Mile High, 2F2S have a passion for music. Influenced by a wide variety of styles, 2F2S established a genre-crossing repertoire of original songs that speak to the listener about life and love. With tunes spanning rockabilly, funk, island, jazz, blues, rock and roll and more, the band shows an adventurous spirit paired with meaningful lyrics.

In a little less than 2 years, 2 Fat 2 Skydive has amassed a collection of over 20 originals and has cultivated and hosted a backyard concert series. Now 2 Fat 2 Skydive is available for hire! Bars, theaters, clubs, and private parties feel free to contact us!
Brad Yeakel- Guitar/ Vocals
Mark Eckart- Guitar/ Vocals
Steve Radtke- Keyboards/ Vocals
Ben Martinez- Bass
Ryan Decker- Drums/ Vocals