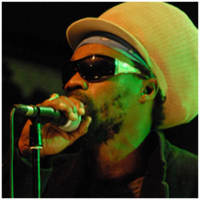 Dubwise Denver - featuring:
Mykal Rose (Black Uhuru) w/ Yaadcore
Hosted by Jason Marley
Time: 9:00pm Day: Saturday Doors: 8:00pm Ages: 18+ / Bar with ID Price: $20

Showtimes
10:30 pm
Mykal Rose (Black Uhuru)
Mykal Rose (Black Uhuru)

For over 25 years, Michael Rose has been recording and performing his brand of militant, hardcore Jamaican music to the delight of reggae fans around the world. As a solo artist, with Black Uhuru, and back as a solo artist, the "Ruff" Rose has achieved great success throughout his career, even as different Jamaican musical styles have phased in and out of popularity. 
Perhaps the highest profile recognition came in 1984, when Michael Rose and the other Black Uhuru members (Duckie Simpson, Puma Jones, Sly Dunbar, and Robbie Shakespeare) won reggae's first Grammy award for the album, Anthem. But the story doesn't begin with Black Uhuru. In 1976, Michael Rose was already a seasoned performer, having honed his skills by performing on Jamaica's hotel circuit. When an early incarnation of Black Uhuru (Ducky Simpson and Errol Nelson) approached Michael to join the group, he already had several solo singles to his credit. These include the original "Guess Who's Coming To Dinner" and "Clap the Barber," both recorded for producer Niney The Observer, and "Running Around" for Winston Campbell. 
Black Uhuru's first full length was released in 1977 and called Love Crisis. It was produced by King Jammy (then Prince Jammy), and the big hit of the album was "I Love King Selassie." But it was not until the Showcase album was released in 1980-with a new lineup of Michael Rose, Duckie Simpson, and Puma Jones-that Black Uhuru reached their creative peak. Heartbeat reissued the set on CD (Guess Who's Coming To Dinner, HB 18), which includes the massive 12" singles "Shine Eye Gal," "General Penitentiary," "Plastic Smile," and of course, "Guess Who's Coming To Dinner." At the forefront of the recordings and live shows was the charismatic Michael Rose, who had incredible stage presence and a vocal style all his own. So popular was his trademark sound that singers like Don Carlos, Junior Reid, Yami Bolo, and others embraced it as the "Waterhouse" sound. 
Throughout the first half of the 1980s, Black Uhuru continued their success with albums on Island Records-Sinsemilla, Red, Chill Out, and Anthem, along with compilations, dub albums, and live albums. They became the best-known reggae act since Bob Marley, and won the first reggae Grammy for Anthem in 1984. Even today, Island continues to capitalize on the group's success by re-compiling and re-releasing the group's Island years material. 
With lead singer Michael Rose seemingly at the top of his game, he parted ways with Black Uhuru, with the intention of redefining his musical direction as a solo artist. In the early 1990s, Michael Rose suddenly appeared on the scene with new material including Jamaican singles produced by Sly & Robbie ("Monkey Business," "Visit Them," "One a We Two a We"), and three albums (Proud, Bonanza, and King of General) released in Japan. 
As a solo artist, Michael regularly tours the U.S. and Europe, and has maintained his Jamaican fan base with hit singles on the island and abroad. He is a modern roots singer, and fits perfectly into today's scene. With a glorious past and a wide-open future, Michael Rose is truly a reggae superstar.
Yaadcore

More and more youths, seeking to connect with their cultural roots, invariably come across particular names in the field of music. No doubt they eventually stumble upon Yaadcore. As his name suggests, he is at the center of Jamaica's Reggae Revival.
His role in the movement is cemented by the fact that he was the first person ever to play the music of Kabaka Pyramid and Chronixx on Jamaican radio. In addition to that, he is Protoje's touring DJ and has toured California & opened for Protoje's band performances on his European fall tour, touching places like Italy, France, Portugal, Switzerland & Belgium. Also just recently opened for Protoje on an extensive tour of the west coast of US with reputable brand sponsorship from Leafly.
Growing up observing his father operate a sound system, Yaadcore naturally gravitated toward the same profession. As an adult, maturity urged him to decide what kind of music he would play at public events. He naturally opted for spiritually healing, organic reggae music and soon stopped accepting work in other genres.
Yaadcore settled into a weekly groove of selecting tunes at his increasingly popular Dubwise Jamaica event in Kingston on Wednesdays that has grown to become and international brand. Dubwise features a weekly vibration in Miami, Florida and have been to states like Washington DC, Atlanta, New York and California and has also sown the Dubwise seed in other countries like Puerto Rico, Trinidad & Tobago, Bermuda, Hungary, Romania, Malta, Germany, Kenya, & Ethiopia.
Those unable to have the Yaadcore experience in person need not go further than their computers. His SoundCloud page is a treasure chest of his globally acclaimed mixes, including the Reggae Aroma's Volume 1 - 3 which have gained listens up to 210+ plays plus his official Protoje mixtapes that have over 100k+ hits along with a marijuana themed mix collaboration with the well renown VP Records that hits 240+ plays.