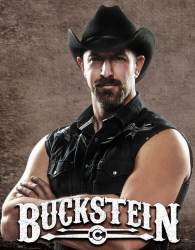 Buckstein Cd Release Party!
with Special Guests: The Tyler Walker Band
Time: 7:30pm Day: Saturday Doors: 7:00pm Ages: 18+ / Bar with ID Price: $14

Showtimes
8:50 pm
Tyler Walker Band
Buckstein

Colorado grown - Born and raised at 5280.
"I don't like country music but I like you."
He gets that a lot.  Randomly. He can't really tell you why. Maybe it's that "no-fear-of-the-edge" mentality that hooks the non-country-lovin' folk while he manages to maintain a balance of traditional vibes that will remind you of a modern day John Wayne. He's a 6'4" bass-baritone powerhouse who once hit 200 million television sets worldwide as a contestant on "American Idol." With each performance he fights to create something electric that grabs you and makes you look up. Maybe that's it. Maybe that's why some people don't like country and yet... they like him.
The most common question a singer will be asked is, "When did you start singing?" Buckstein has always had the same answer: "When I found out that the chicks dig it." Sounds like a punchline but it's actually the truth.
He was 13, at summer camp, trying to figure out how to meet girls like everyone else. A couple of girls were singing "Amazing Grace" and he shyly scooted up next to them and started singing along. "When they found out I could sing they immediately introduced me to all the other girls in the camp," he grins. "I've been singing ever since."
His love of country music is thanks to his father who played it all the time when he was young even though he hated the genre. "It takes one good country song to hook ya!" Buckstein warns. "Mine was probably 'Thunder Rolls' by Garth Brooks or 'This Ain't No Thinking Thing' by Trace Adkins. I heard those tunes when I was about 11 or 12 and something just clicked--I was hooked."
He continued to grow up a country boy at heart often retreating to the Rocky Mountains of Colorado. However, since he always lived in the city, the rest of his musical tastes fall outside of the expected box, running a gamut that includes blues, rock, rap, classics from the '50s, and whatever was on Top 40 radio at any given time.
Buckstein studied theater in college, earning his BA from California State University, Fullerton. Prior to "American Idol" he had moved to LA to pursue a career as an actor. "Big surprise, it wasn't going anywhere," he confides. "One day a few friends of mine went to the 'American Idol' auditions, which was the hottest show on TV at the time. They wanted some company so I went along. I got through and they didn't. It was Idol that set me on a different path." After appearing on the finale of "American Idol" in Season 5, he returned to Denver with music on the brain.  
He started singing with whomever would back him up, growing along the way, learning his craft, year after year, little by little, making friends, music, mistakes, and big moves, all leading him to today. "Those years were invaluable," he says. "They call it 'paying your dues.' It always sounded like a bad thing. But I found out paying your dues can be some of the most fun you'll ever have."
Over the past few years Buckstein has traveled all over Colorado and the Midwest region performing for soon-to-be-lifelong fans. He admits to laughing to himself when other performers come to Colorado and complain about how hard it is to sing at such a high altitude. Buckstein, being a true native of the 5280 state, has never had a problem.
He has rocked crowds opening for Charlie Daniels, Dustin Lynch, Old Dominion, Eli Young, John Michael Montgomery, Mark Chesnutt, Vanilla Ice, and many, many others. He's gained local fame as a regular guest star on Denver's hottest country station 98.5 KYGO and also as the writer and performer of "The Grizzly Rose," which is a popular song about the famous Denver nightclub, and he produced a music video for the track. Buckstein wrote the song about his personal experiences after his first week playing at the legendary venue.
He began, as most do, singing covers of all of the artists he was most influenced by. Buckstein embraces covers and thinks that no matter what, "there should always be room in your set to pay homage to the artists and songs that have touched your life. Even when you're selling out arenas with your own stuff you can do that. I have a saying: 'Today we play the songs that others have written… so that someday we may play the songs that we have written… so that someday others may play the songs that we have written.' You gotta put those pauses in there for dramatic effect," he laughs.
Buckstein is currently embarking on his next chapter with his newest EP, Country Side. "There's a lot of heart in these five tunes," Buckstein says. "Making them has been a very valuable experience. It has shown me not only where I am but where I want to go from here."
Buckstein's goal is to bring soul to everything he does. "What people seem to respond most to in my live performances is my passion, so I worked hard to bring that passion to the record. My sound gets compared a lot to the great bass-baritones of my time: Trace Adkins, Toby Keith, Josh Turner, and Chris Young.  But I personally hate comparisons.  I don't think Josh Turner wants to hear he sounds like Don Williams," he laughs.  "I just wanna sound like me.  If my sound were a drink, I'd like to think it would come in a bottle with a cork instead of a twist cap.  And I'd like to say it's got a crisp bite with a smooth finish."
He gives all the thanks in the world to his fans and his crew: "Without the people who support me, on stage and off, this would all be for nothing. I try to always surround myself with good people who want to make good music for other good people."
And if you're still wondering, it's pronounced "Buck-steen."
Tyler Walker Band

The Tyler Walker Band remains one of the most sought-after country bands in the region, headlining clubs, events and festivals all across the Rocky Mountain region. Winners of 97.9's "Big Country's Got Talent" competition, the band is regularly ranked near the top on ReverbNation's country charts. They were also featured as the November 2013 Colorado Music Buzz Magazine "Artist of the Month" and have opened for such notable acts as country music legend Travis Tritt, country music stars Ty Herndon and Anita Cochran, as well as TV/music star Jana Kramer.
They were booked by Live Nation Entertainment in October 2015 to play the VIP Club at the Florida Georgia Line concert, featuring Thomas Rhett and Frankie Ballard, at the Isleta Amphitheater in Albuquerque, NM and will return in July 2016 to play at the Live Nation Rascal Flatts concert.
The Tyler Walker Band is a regular at such high profile events as "A Taste of Colorado", The Greeley Stampede, Cheyenne Frontier Days and The Colorado State Fair, as well as county fairs and festivals all across the region. The band is also in the regular rotation on "Write-A-Song Wednesday" on the highly-rated 98.5 KYGO Morning Show with Tracy Dixon.
The Tyler Walker Band features Nashville recording artist and songwriter Tyler Walker on lead vocals, Brian Sunde and Paul Trinidad on guitars and background vocals, Joe Marone on bass and Ryan Kimray on drums.