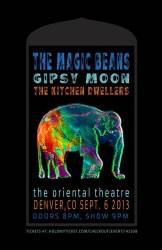 Magic Beans
w/ Gipsy Moon / Kitchen Dwellers
Time: 9:00pm Day: Friday Doors: 8:00pm Ages: 16+ / Bar with ID Price: $10
This Event Has Ended
The Magic Beans

Since the creation of the band just two years ago, The Magic Beans have established themselves as one of the most prominent and original acts in the perpetually flooded Colorado music scene and beyond. The group had made a name for themselves with a deep cannon of original songs, virtuosic playing, and fusing genres while connecting with their fan base in a way that is not typical with other bands. Drawing from a wide range of influences, The Beans style can be described as natural and all encompassing, encapsulating the diverse interests of each musician in the band and today's music lovers into one package. The Magic Beans are well known for going between folk, funk, rock and electronica in a single composition, original setlists each night, and with the added element of improvisation, there is always something special that can happen at every show. The group uses no pre-recorded tracks or samples in favor of a more traditional approach to music; original songwriting, diverse instrumentation, and continually pushing the musical envelope are what set the Magic Beans apart. Seamlessly combining acoustic roots music and traditional instruments with modern technology and electric dance music, the Magic Beans are unique as their place of origin, the Colorado Rockies.
The Magic Beans have shared the stage with an eclectic group of musicians ranging from members of infamous groups like Leftover Salmon & String Cheese Incident, to Nashville greats like Tyler Grant and Larry Keel, to electronic mainstays like Bassnectar & Eliot Lipp, to national acts Railroad Earth, Great American Taxi, Zac Deputy, Elephant Revival, Greensky Bluegrass, Split Lip Rayfield, Juno What, Papadosio, & The Werks just to name a few. They've headlined in front of crowds up to 1000 people at venues like the Boulder Theater, Mishawaka Amphitheater, Bluebird Theater, Cervantes Masterpiece Ballroom, Belly Up, Gothic Theater, State Bridge Amphitheater, Fox Theater, City Hall, 320South, Ghost Ranch Saloon, and many more across the country. The group has a full studio album and live shows available for free to fans at themagicbeans.bandcamp.com and has also put on two of their own festivals and participated in countless charity and benefit events. Look for the groups second studio effort, a double album, to be released early next year.
Scott Hachey – Electric/Acoustic Guitar, Vocals
Josh Appelbaum – Bass Guitar, Backup Vocals
Casey Russell – Keyboards, Synth, Talkbox, Acoustic Guitar/Banjo/Mando, Vocals
Will Trask – Drums, Percussion, Timbales
Hunter Welles – Five String Baritone Electric Mandolin, Acoustic Mandolin
Gipsy Moon

Gipsy Moon is a five-piece group of wandering artists on an endless journey toward good times and raw expression. With music as their carriage, strings as their weapon and the horizon as their aim, this unconventional band is not one to be missed. Their sound, often referred to as Gipsygrass, is something like a backwoods hoedown meets the smoking basement of a New York jazz club. Their soothing harmonies, raging solos and dirt encrusted bass lines bring an old time style into an exciting new dimension; one that hippies and poets, lovers and dancers, freaks and families alike can all come together and move in ways that their bodies have never known. The members, made up of Silas Herman (guitar/mandolin), David Matters (banjo/vocals/guitar) Mackenzie Page (guitar/vocals/tenor guitar/washboard), Andrew Conley (Cello) and Collin Huff (bass/vocals/guitar) all take rest in the windy mountains of Nederland, Colorado. When they are not on the move you can find them here, forming cantos high up in the Rockies, making herbal concoctions out of the local flora or sharing a glistening jug of homebrew around a blazing campfire. This is but a small glimpse into the source of their musical inspiration. The content of most of their lyrics is a tasteful blend of nature based love songs, anti-establishment sing-alongs and down home simplicity with a gentle kiss of civil disobedience. They create music that is meant to plant inspiration in the soul and start a fire in the heart. They perform with the intention to build community and to invoke love in its wildest manifestation. They travel in order to experience life to its fullest and to build bridges that connect the frayed ends of the crumbling establishment to a new and beautiful way of existence. If one should ever come upon an opportunity to see Gipsy Moon, whether on the stage, in the woods or even sleeping in your back yard, they should be pleased at prospect of kicking off their shoes, smiling to the heavens and getting down and dirty to some rowdy ass picking.
Kitchen Dwellers

Kitchen Dwellers formed three years ago below the Bridger Mountains with the sizzle of afternoon breakfast and the warmth of Irish coffee  brewing in the kitchen.   What began as a trio, Shawn Swain, Joe Funk, and Kyle Shelstad began writing music and playing traditionals  searching for originality and occasionally, other life forms.  Torrin Daniels was quickly added on Banjo and the band began playing shows around Bozeman, Montana.  The boys began getting into cluster plucks and playing shows with the well established, local bluegrass exrtaordinaires Flatt Cheddar.  In the spring of 2012, they added the multi-instrumentalist, Tyler Schultz on fiddle just in time to hit the road for Colorado.   The Kitchen Dwellers have opened for high profile artists like Greensky Bluegrass, Pete Kartsounes, WhiteWater Ramble, Head for the Hills, and the Deadly Gentlemen.  In the winter of 2013 they won the Zoo Music Awards, a Montana Music Competition based on performance, originality, and popularity.  They continue to master their sound, create original work, and foster their live performances.
The boys in this band (not to be confused with boy bands) hail from all over this great country we call the United States. With Joe Funk from Alaska, Shawn Swain from Colorado, Torrin Daniels from Montana, Tyler Schultz from Illinois, and Kyle Shelstad from Wisconsin, they come together to form the most democratic, free form sonic bliss. The standard bluegrass lineup of banjo, mando, fiddle, guitar, and bass, this band's sound is anything but standard. Combining elements of the intergalactic space travel, bluegrass, blues, psychedelic rock and roll, and picking that resembles the sound of laser beams being fired at your head, you'll leave ever wanting more.  Download and SHARE our music!