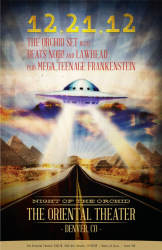 Night of the Orchid w/
The Orchid Set / Beats Noir! / Lawhead / Mega Teenage Frankenstein
Time: 8:00pm Day: Friday Doors: 7:00pm Ages: 18+ Ages Price: $10
This Event Has Ended
Beats Noir!

Beats Noir began as an experiment. As with all experiments, its conductors were unsure what to expect when they set out to combine J.T. Nolan's love of Americana and Rock n Roll with Paul Mullikin's background in Hip Hop and Jazz. Their collaboration led to an intriguing blend of electronic and acoustic sounds, of infectious beats and undeniable musicianship. The result is equal parts style and substance- big, bold, intelligent music that will make you move.
The Orchid Set

The Orchid Set is a new project from drummer Dave Miller (Katalyst, Beats Noir!, the Silent Still). It blends influences from primitive human rhythm music with cutting edge technology. The results produce an otherworldly sound that is constantly evolving at a rapid pace. The expansion of his Universe is driven by the vibrations of The Mars Volta, Tool, Pretty LIghts and Amon Tobin as well as our multiverse.
Katalyst


Katalyst is an ongoing musical, and scientific experiment. The members of Katalyst have played music together for 15 years and their art has grown like a child. The laboratory where their creative Frankenstein resides is in Centennial, CO. Most Katlayst shows these days are in Denver and the surrounding lands. The band has three albums to date; "Changes" (2002), "Abstract View" (2006) and "Stone" (2010). With a grassroots following, Katalyst has a respected reputation for pushing the limits of musicianship live and in the studio. Check it.