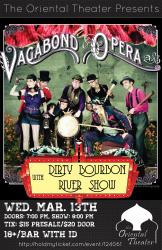 Vagabond Opera
w/ Dirty Bourbon River Show
Time: 8:00pm Day: Wednesday Doors: 7:00pm Ages: 18+ / Bar with ID
This Event Has Ended
Showtimes
8:00 pm
Dirty Bourbon River Show
Vagabond Opera
European Cabaret! Vintage Americana! Balkan Belly Dance! Neo-Classical Opera! Old World Yiddish Theater! Welcome to the six-piece, Portland, Oregon-based Vagabond Opera.
Based in the Pacific Northwest, yet encompassing the world, Vagabond Opera delivers passionate offerings of Bohemian cabaret. Paris hot Jazz, gut bucket swing, Tangos, Ukrainian folk-punk ballads, Klezmer and vigorous originals meet a world of riverboat gambling queens, Turkish belly dancers, and the enigmatic Marlene Dietrich. Weaving elements of Kurt Weil, Duke Ellington and Edith Piaf with absurdist flair, theatrics and an old world mood, Vagabond Opera presents the new wave of opera--lusty (trained) voices singing in 15 languages and presenting a cabaret of rich musical phrasing, sparkling lyrics and indomitable stage presence, all played with exuberance, skill and a gritty Vagabond edge. This is Opera liberated and reinvented for everyone.
The band's lineup features trained operatic tenor and soprano vocals, accordion, tenor and alto saxophones, cello, stand-up bass, drums, and, when the mood is right, a burlesque hoola-hooping fire performer.
Vagabond Opera has been featured in Jazziz Magazine, shared stages and players with The Decembrists, Pink Martini, Al Franken and the Oregon Symphony. Vagabond opera has two full length albums 
https://www.facebook.com/vagabondopera
Dirty Bourbon River Show
Since forming in early 2009, the Dirty Bourbon River Show has released 5 studio albums and played over 400 live shows, fast earning them a solid reputation for their tight, diverse sound and high-energy performances. They can be found bringing their blend of "New Orleans Gypsy Brass Circus Rock" all over the USA, performing at festivals and respected venues year-round.


The Dirty Bourbon River Show is comprised of Noah Adams (vocals, piano, guitar, accordion, trumpet), Charles "Big Charlie" Skinner (vocals, trombone, wind toys), Matt "Slyfox" Thomas (vocals, tenor, bari and Mississippi saxophone, clarinet), Jimmy Williams (bass, sousaphone) and Dane "Bootsy" Schindler (drums).
Their fifth studio album, Volume Three, continues to push the boundaries of modern-day music, pairing reflective, syncopated lyrics with complex, harmony-rich songwriting. As a full-time touring quintet of highly versed multi-instrumentalists, the Dirty Bourbon River Show strives to change the way we think and feel about music.